Welcome to our new CABIN at the SHOP
Somewhere to sit, meet, have coffee and cake.
Free wifi and blankets for your knees.
Come in and try it out.o
oOPENING HOURS
MON-FRI

   8.45 - 4.00
SAT

  8.30 - 1.00
SUN & BH

  9.30 - 11.30
POST OFFICE

:
MON

  9.00 - 12.30   
THU

  12.30 - 4.00
Runners up in  THE DENBURY COMMUNITY CONTRIBUTION AWARD 2022
'Recognising an outstanding contribution that an East of England community business or individual has made to their local community.'
   Sponsored by The Denbury Charitable Trust and The Plunkett Foundation
A great time was had at the Easter activity day.    Lots of people turned out on a lovely sunny day to enjoy the Easter fair, activities and celebrate the official opening of our new Community Space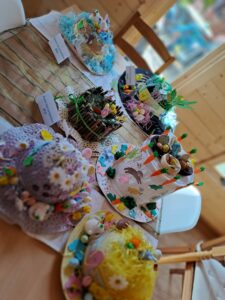 Official Sponsors of
Langham Community Shop
Tel: 01206 272431
Email: communityshoplangham@gmail.com
We are a friendly and welcoming shop, proud to be run by volunteers and open for custom every day except Christmas Day. A real small supermarket on your doorstep! From small beginnings in a mobile cabin in 2004, we have grown steadily, and moved into fixed premises (adjoining Langham Community Centre) in 2011.
Many Langham residents make regular use of the shop, making us a "hub" for all the latest village news! Others probably still don't fully realise what a great village resource we have here. Next time you think of jumping in the car to drive 5 miles to a Colchester supermarket to pick up a few urgent items, pause a moment, why not try us instead? We stock a great range of over 1800 products meeting most everyday needs, alongside many local and seasonal products which are well worth trying. We hope to see you in the shop soon!